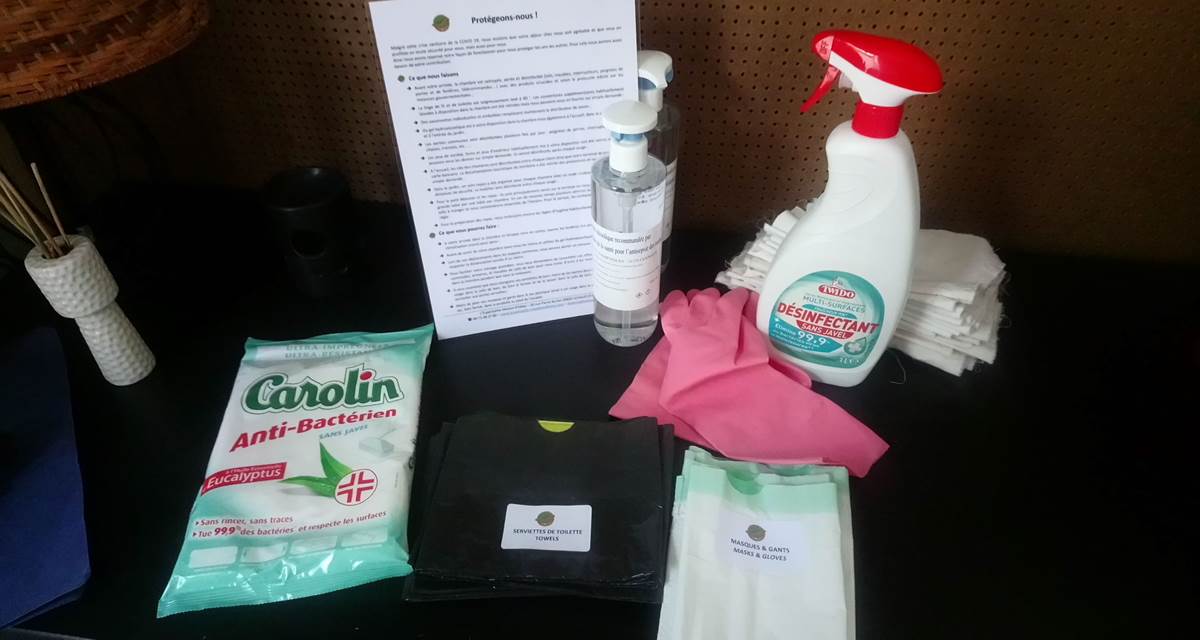 Covid 19: Protect ourselves!
Despite this COVID 19 health crisis, we want your stay with us to be pleasant and enjoy it safely for you, but also for us.
So we rethought the way we operate to protect each other. For this we will also need your contribution.

What we do
Before your arrival, the room is cleaned, ventilated and disinfected (floors, furniture, switches, door and window handles, remote controls….

) with virucidal products and according to the protocol decreed by government authorities;

Bed linen and towels are carefully washed at 60 °. Additional blankets usually left in the room have been removed but we can provide them to you on request;

Hydroalcoholic gel is available in the room but also at the reception, in the dining room and at the entrance to the garden;

The common areas are disinfected several times a day: door handles, switches, tables, chairs, deckchairs, etc….

;

The board games, books and outdoor games usually made available to you have been withdrawn but we can give them to you on request. They will be disinfected after each use;

At the reception, the room keys are disinfected between each customer as well as our payment terminal by credit card. Tourist documentation for the territory has been removed from the displays and will be given to you on request;

In the garden, a rest area has been organized for each room with a color code in order to respect the safety distances.

The furniture will be disinfected between each use;

For breakfast and meals: they are mainly served on the terrace where we replaced our large table with one table per room. In the event of bad weather, several services will be organized in the dining room and we will agree on the schedule together. For service, individual containers are the rule;

For the preparation of meals, we are further strengthening the rules of hygiene usually applied.
What you can do:
On your arrival in the room and when you leave it, open the windows (taking care to cut the air conditioning before) to ventilate;

Before leaving your room wash your hands and use hydroalcoholic gel;

When traveling in the common areas, you can wear a mask but you must above all respect the social distancing of one meter;

To facilitate our daily cleaning, we ask you to gather your personal belongings in the dressers, cabinets, and bathroom furniture to avoid us having to handle them and not come into the room while we are cleaning it;

If you want us to change your bath towels, please put them in the garbage bag left for this purpose in the bathroom, close it securely and leave it in the bathroom. Otherwise, please hang them on the towel rails;

Please throw your masks and gloves in the plastic bag left for this purpose in the bathroom and throw this bag, tightly closed, in the trash can at the foot of the stairs.